Eleanor Julia Puczolowska Hillegas
My 23 classmates and I felt very worthwhile and needed up to the day of our graduation in September 1947. My dates of service as a U.S. Cadet Nurse are: September 1, 1944 through October 9, 1947. I was one of a few who married shortly after graduation. My husband, Harold B. Hillegas, qualified for a G.I. loan after his WWII service in the European Theatre. We moved into our new home in February 1948. It was the first house built in Harleysville, Pennsylvania, built on farmland for post-war housing development. My husband and I shared 27 happily married years until his death in 1975, and I celebrated my 68th anniversary in our home in February 2016.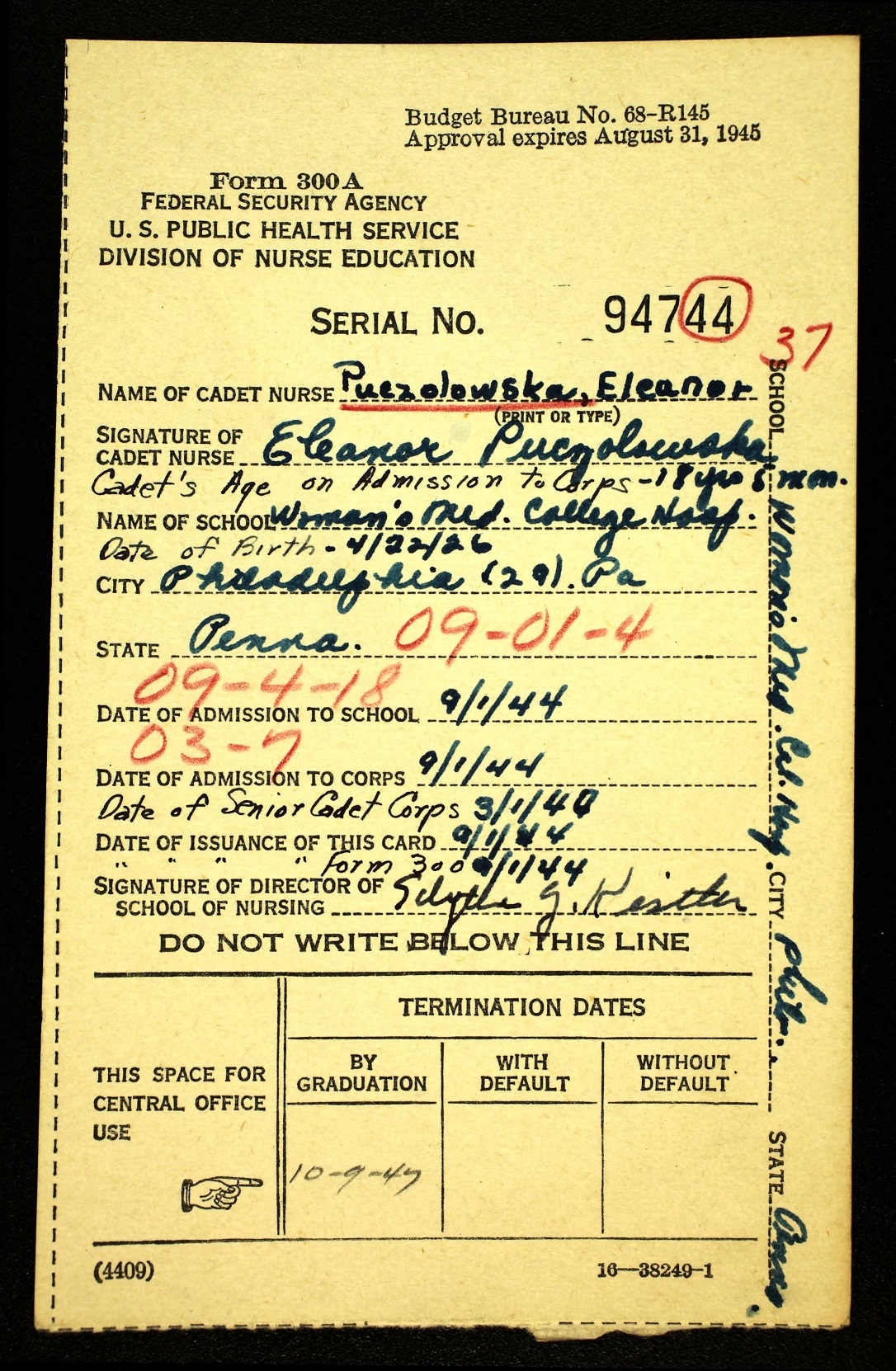 August 1944 classes at The Woman's Medical College of Pennsylvania Hospital School of Nursing began the 6-month Probie stint. Within four (4) weeks of classes, a need found us in the wards, especially on Maternity for emptying bedpans. [Maternity had scheduled bedpan times.] After Probie days the next part of the 3-year curriculum was compressed to eighteen (18) months. Classes, floor-work in rotations - The next eighteen months was full-time on all floors on day, evening and night shifts. A senior student nurse (a black velvet band on white nurse's cap) was often in charge of 3 p.m. - 11 p.m. and 11 p.m . -7 a.m. or with an underclassman. There was one nurse RN Supervisor on 3 p.m. - 11 p.m. and 11 p.m. - 7 a.m. (who often worked 7 a.m. - 7 p.m.) for the entire hospital, including Operating Room (OR) & Emergency Room (ER).
My post-war career began as a medical/surgical nurse in the local hospital, then onward to work with a family physician as his office nurse. I was also one of three (3) RNs to aid in Harleysville's first ambulance (a donated former hearse) service with 24/7 nursing service. We provided coverage one week at a time and alternating for twenty (20) years of volunteer community service.
Meanwhile my husband and I began our family, a lovely daughter, Ferne Eileen. Needless to say, I wanted my Obstetrician Chief of Staff for the delivery. It was a treacherous night ride to Philadelphia from Harleysville in the midst of a historical snowstorm for the area in November 1953. A neighbor friend drove my husband and I to the hospital -all of us crowded on the front bench seat of the car.
I ran a mini-nursing home for family for short-term health issues in our home. I also went to family and friends to their homes to do the same whenever needed. My very best nursing days were caring for my husband after his 1960 heart attack.  He had several more until his death in 1975.
My husband urged me to pursue the opportunity given for school nursing in 1963. I was doing a part-time in geriatric and as an office nurse for a local insurance company at that time. I found my niche in school nursing, all of 27 years. Upon my retirement I was able to purchase three (3) additional years to count toward my retirement because of service in the U.S. Cadet Nurse Corps.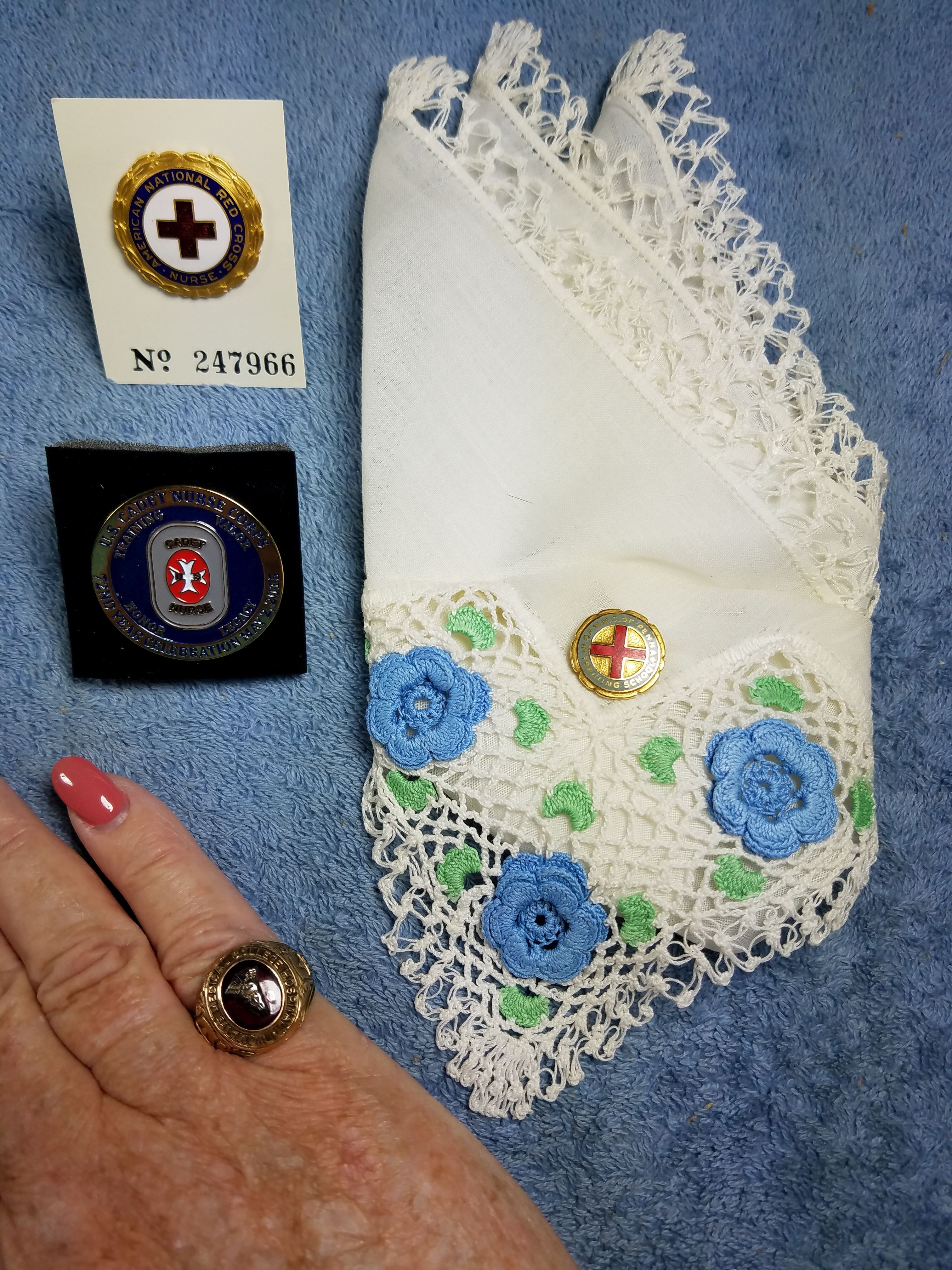 During student training, I had two (2) roommates . Helene Cerankowski Chernoff, of Philadelphia, PA, married, and had two (2) children, a son and daughter. Helene lived and died in New Jersey. Josephine Peckiconis "Peck" Ahlum, of Perkasie, PA, married and had five (5) children, three (3) daughters and fraternal twin sons. Peck lived and died in Quakertown, PA, in January 2017. Another classmate, Marion Russo Bogden, of Norristown, PA, married and settled in New Jersey. In the last years of her life she lived with her son in Chaska, Minnesota and died in May 2015.
On Saturday, 26-Apr-2014, I attended my 70th Girls High School (Philadelphia, PA) reunion. It was wonderful to enjoy time once again at the reunion with my 10 classmates of the original graduating class of 181. Girls High School is where it all began. My city high school education afforded me the opportunity to apply and be accepted into the U.S. Cadet Nurse Corps. Years later in the midst of conversation during an interview and based upon my graduation from Girls High School, I was accepted to begin undergraduate studies for a B.S. degree at West Chester State University (West Chester, PA). My education experience later included graduation with a master's equivalency in Education from Penn State (Abington campus, PA), and a Master's Degree in Nursing Education from Villanova University (Villanova, PA).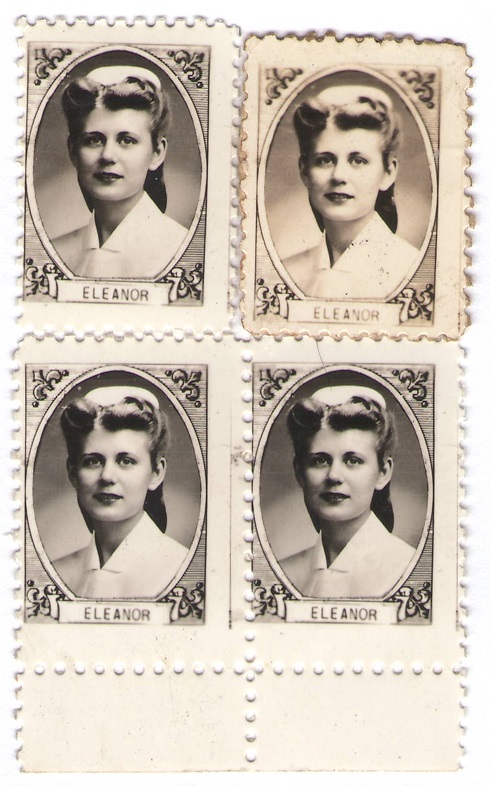 Eleanor Julia Puczolowska Hillegas, RN, BS, MEd, MSN.
 
Last Name in Nursing School:
Nursing School:
The Woman's Medical College of Pennsylvania Hospital School of Nursing
Photo: