Rosemary Wood
What a wonderful website! I had no idea there were so many different training programs for the U.S. Cadet Nurse Corps. My mother, Martha Withers Agner, trained at Episcopal Hospital in Philadelphia, Pennsylvania, from 1943-1946. She cherished her experiences and the friends that she made during that time. She left us a treasure in that she published a Book of Letters (171 pages of them), which she wrote to her family during her nursing training. A photocopy of The Episcopalian yearbook with personal handwritten remarks from her fellow cadets is included at the back of the book. A further description of the book follows: 
A Book of Letters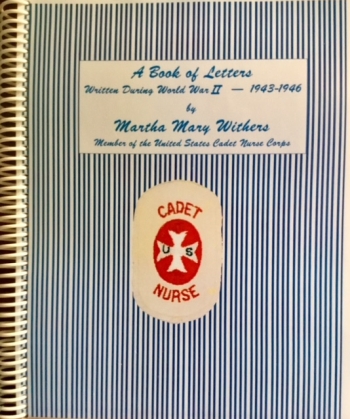 Written During World War II - 1943-1946
Copyright 2007
A sequel to From Whence I Came, a book that describes Martha's experience growing up in Spencer, NC, A Book of Letters picks up the story and provides a youthful perspective of a small town girl, Martha, in the big city of Philadelphia, Pennsylvania, during one off the most pivotal eras in American history, World War II. Compiled from the letters Martha wrote during her accelerated nursing training at Episcopal Hospital, A Book of Letters allows the reader to become immersed int he cultural experience of the times while enjoying the midnset and antics of teenage Martha. Life explodes for the small town girl as she discovers the Jersey Shore and Philadelphia nighlife during her time off from the rigors of nursing classes and working on the hospital ward.
210 pages $35 + shipping
If anyone would like to purchase a copy, please contact me by e-mail at rosemarywood7554@att.net
Last Name in Nursing School:
Relationship Status:
Relative of a Cadet Nurse
Nursing School:
Episcopal Hospital School of Nursing, Philadelphia, Pennsylvania
Photo: